Uniwersytet Jagielloński
Twin centre 2

Uniwersytet Jagielloński
Instytut Fizyki
Reymonta 4
30-059 Krakow
Poland
National website containing information about Fibonacci
Uniwersytet Jagielloński - short overview
Uniwersytet Jagielloński is a public institution founded in 1364. It has a long and rich history and at present the University is organized in 15 Faculties, including: Physics, Astronomy and Applied Computer Science; Mathematics and Computer Science, Chemistry, Biology and Earth Sciences. Offering a wide spectrum of higher educa­tion study programs and courses at all levels the University is well recognized for its experience in Higher Education. Activ­i­ties carried out by Uniwersytet Jagielloński include training of pre- and in-service teachers. The present number of students is approx. 46 000 and more than 6000 of stuff members.
Uniwersytet Jagielloński is well recognized as an organization popularizing science in the society. Among others Institute of Physics organizes lectures and workshops for children from kindergarten and all school levels, takes part in annual events (Science Festival, Researcher's Night), publishes Foton and Neutrino – the science quartelies addressed to pupils and physics teachers, leads Świetlik (Firefly) – a National Contest in Science for Primary School.
Activities with the Fibonacci project
Building up knowledge about IBSME methodology and transfer of knowledge and experiences of active learning methods among the Fibonacci centres.
Dissemination of IBSME methodology in the society of science teachers from primary schools:
teacher training sessions and instructive lessons in classes participating in Fibonacci
development of pedagogical materials
development of the experimental kit
Pilot for Greenwave.​ie in Poland.
Information about this project in Polish
Projekt Fibonacci ma na celu popularyzację nowoczesnych metod nauczania przyrody w przedszkolach, szkołach podstawowych i gimnazjach. W szczególności skupia się na metodologii IBSME - edukacji opartej na odkrywaniu wiedzy poprzez zadawanie pytań. Metoda ta z powodzeniem została już wdrożona w wielu programach w Unii Europejskiej, m.in. w programie POLLEN, który był prekursorem obecnie realizowanego projektu. Więcej informacji na stronie www.if.uj.edu.pl/fibonacci/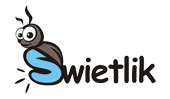 Świetlik (Firefly)
A National Contest in Science for Primary School, implementing science knowledge from different sources and simple hands-on experiments into science education.
Feniks

A project supported by EU, concentrated on awakening of research interest, completion of physics education and reinforcement of competences in physics, math and engineering among pupils from lower and upper secondary schools.