Thüringer Institut für Lehrerfortbildung, Lehrplanentwicklung und Medien
Twin centre 2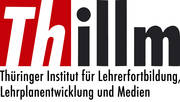 Thüringer Institut für Lehrerfortbildung, Lehrplanentwicklung und Medien
Heinrich-Heine-Allee 2-4
D-99438 Bad Berka
Germany

National website containing information about Fibonacci
ThILLM - short overview
ThILLM is the central institution for teacher training and quality management for all public schools (including pre-schools) in Thuringia (Germany). Furthermore ThILLM supports institutions of early child education. The institute offers teacher training including important aspects of fostering individual learning and development of children and young people.
One of the main tasks of the central institute for teacher training and quality management is the development of pedagogical resources and methodological guides. They are available for free for all Thuringian schools.
ThILLM works in close cooperation with the Thuringian Ministry of Education (TMBWK)and all regional school and educational administrations.
Activities with the Fibonacci project
ThILLM supports schools in their development of teaching and learning quality. There already exists a network of schools in Thuringia, which have implemented IBSME in their classroom teaching.
We see the need for improving teamwork between teachers inside the same school and on a regional level. Teamwork is an important aspect for implementation IBSME sustainably in a growing number of schools.
The ThILLM cooperates with both international and national partners working in the field of science and educational research, e. g. IUFM d'Auvergne Académie de Clermont-Ferrand (Frankreich); PI Pädagogisches Institut für die deutsche Sprachgruppe Bozen (Italien); LISA Halle (Deutschland).
The institute participated in several national and EU-projects such as INSPIRE, SINUS-Transfer and Transfer-21.