What is a Reference Centre?
The dissemination strategy of the Fibonacci project is based on a network of twelve Reference Centres throughout Europe, which all have a recognized expertise for sustainable Inquiry-Based Science and/or Mathematics Education implementation at local or national level.
Each Reference Centre basically relies on a local coordinator and a core team of experts and teachers' trainers.
Activities on the local and regional level
A Reference Centre is covering various tasks on the local and regional level as the picture shows.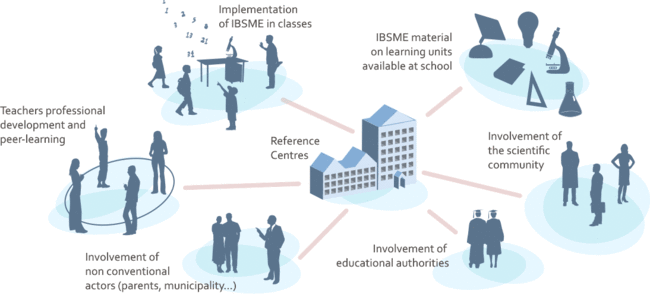 Activities on the European level
Each Reference Centre
supports at least two Twin Centres (TC1 and TC2) by offering training and tutoring.
participates in a cluster by working with other Reference Centres and Twin Centres.
contributes knowledge, materials, training etc. to one of the common topics.
participates in European training sessions, conferences and seminars.
Download the reference centre implementation guidelines.