Second European Conference
Bridging the gap between education research and practice
26 - 27th April 2012 University of Leicester, UK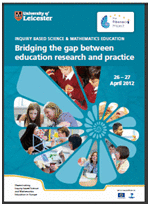 The Fibonacci Project European Conference was held at the University of Leicester 26-27 April 2012. It was organised by the School of Education, University of Leicester in cooperation with the Fibonacci European coordination team (La main à la pâte - French Academy of Sciences, École Normale Supérieure Lyon, École Normale Supérieure Paris). The Conference disseminated and explored strategies for improving inquiry-based science and mathematics through research and evaluation of innovative practice. Delegates came from 28 countries in Europe and beyond.
Reviewed the meaning of inquiry in mathematics and science education (IBSE),
Presented research and practice of IBSME,
Explored the relationship between IBSME theory, research and practice,
Considered strategies for integrating inquiry across curricula,
Considered how the external environment of the school could be used to promote IBSME,
Explored methods for carrying out evaluation and research in schools and classrooms in IBSME, and
Promoted networks of cooperation for inquiry-based mathematics and science education.