Trnava University
Reference centre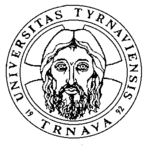 Trnava University
Faculty of Education
Priemyselna 4
918 43 Trnava
Slovakia
Trnava University - short overview
Department of Biology
Department of Chemistry
Department of Physics
Department of Mathematics and Computer Science
Department of Slovak Language and Literature
Department of British and Germanic Studies
Department of Educational Studies
Department of Preschool and Elementary Education
Department of Education of Fine Arts
Centre for Lifelong Education
Activities within the Fibonacci project
Short presentation of IBSME roots at Trnava University
The University of Trnava (Faculty of Pedagogy) is involving in IBSME activities for about 15 years. At international level, the University is involved in project FAST (Foundational Approaches in Science Teaching; http://www.nsdc.org/midbook/foundation.pdfwww.lamap.fr) The main thoughts of the project are already included into pre-gradual courses of preschool, elementary and secondary didactics at Pedagogical Faculty of Trnava University (It means that every year about 150 future teachers will be taught in the IBSME conception).
Shaped dissemination of IBSME principles
The IBSME is going to be officially offered as an alternative conception of basic science education in kindergartens and primary schools. As we perceive the educational conception hidden inside of the Fibonacci project as very perspective one, our main target is going to be aimed at offering this conception to schools which are nowadays looking for suitable and already verified alternatives of teaching.
The Fibonacci project is nowadays implemented mainly in Trnava region, where we would like to start with complete implementation of IBSE into all levels of science education (from preschool age to lower level of secondary education) in a wider range. We also have in contact 3 different regions: Senica, Topolcany and Michalovce, where we are going to start with implementation of IBSE into primary science education. Mainly we are going to be aimed at improvement of teacher-training to become sure that the main principles are going to be really understood and mastered. That is why we would like to offer the in-service teachers completely prepared science courses ready to use in their everyday practice which are going to be vividly connected with the reformed national curricula.
The main principles of the dissemination process
The main activities
1. Organizing continuous in-service teacher trainings.
One system of trainings for group of teachers consists of:
1 introductory (theoretical) training session (1 day)
4 practical training sessions (4x1 day)
proposal of own activities and discussion (1 day)
application of IBSE in practice (individually few months)
4 meetings based on discussions between the teachers and the trainer (4x1day)
Every year we are planning to train 4 groups of teachers (every group contains up to 10 teachers). The teachers are going to be certificated for further dissemination of the ideas.
2. Providing supporting materials:
IBSE guidebook for kindergarten teachers (for science education)
IBSE guidebook for primary teachers (for science education)
IBSE guidebook for lover secondary science teachers
3. Research in IBSME implementation into the educational practice
Information about the project in Slovakian